Cryochambers
We apologize, but we cannot offer refunds or returns for medical equipment such as this product. Please feel free to ask any questions prior to purchasing.


Introduction to CryoSurgery & Brymill
Cryochambers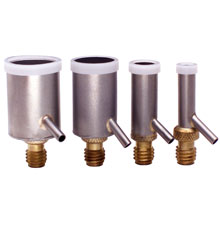 When physicians are deeply treating an area of skin during a cryosurgical procedure, Brymill's cryochambers confine the liquid nitrogen spray to the area so that it pools precisely and delivers a better outcome for patients. All Brymill cryochambers are fully autoclavable. For best results, we recommend using either the right-angle adapter or malleable extension with our cryochambers.
| | |
| --- | --- |
| Model #104-6: | 6 mm Cryochamber |
| Model #104-10: | 10 mm Cryochamber |
| Model #104-15: | 15 mm Cryochamber |
| Model #104-18: | 18 mm Cryochamber |
| Model #104-31: | 31 mm Cryochamber |
Brymill is a family-owned, Connecticut-based company that has delivered cutting-edge technology with attentive customer service for almost 50 years. They specialize in highly durable cryosurgical equipment backed by a three-year warranty, and can manufacture custom equipment to meet your specifications.
Physicians and distributors around the world rely on Brymill products for superior quality.
Manufacturer
Brymill
Specifications