We apologize, but we cannot offer refunds or returns for medical equipment such as this product. Please feel free to ask any questions prior to purchasing.


Introduction to CryoSurgery & Brymill
Normal operating pressure: 4 psi
Withdraw liquid nitrogen easily while conveniently filling multiple Cry-Ac® units simultaneously using Brymill's liquid nitrogen withdrawal device. It permanently affixes to the top of the dewar and features a faucet-like on/off control that makes the process simple. It also includes a filter to clean the LN2 prior to withdrawal. Discover how to use Brymill's liquid nitrogen withdrawal device effectively.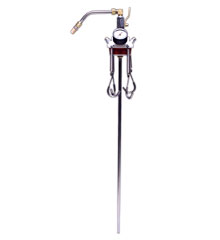 All Brymill liquid nitrogen withdrawal equipment comes with a 12-month warranty. When ordering, please specify dewar manufacturer, model number and capacity.
Brymill is a family-owned, Connecticut-based company that has delivered cutting-edge technology with attentive customer service for almost 50 years. They specialize in highly durable cryosurgical equipment backed by a three-year warranty, and can manufacture custom equipment to meet your specifications.
Physicians and distributors around the world rely on Brymill products for superior quality.