Liquid Nitrogen Withdrawal Tube - Brymill
We apologize, but we cannot offer refunds or returns for medical equipment such as this product. Please feel free to ask any questions prior to purchasing.


Withdrawal Tube Instructions Cry-Ac® In Service Quick Start Video
Introduction to CryoSurgery Video
Brymill's liquid nitrogen withdrawal tube is a removable accessory that provides a simple and efficient way to extract liquid nitrogen from your storage dewar. Conveniently fills one CRY-AC® unit at a time. Tube is removed from dewar after each use. Offers instant pressurization. Includes a filter that helps clean the LN2 before it is withdrawn. All Brymill liquid nitrogen withdrawal equipment comes with a 12-month warranty. When ordering, please specify dewar manufacturer, model # and capacity.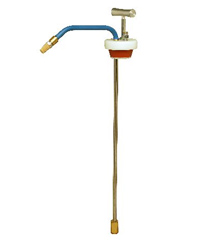 Manufacturer
Brymill
Specifications