Concave Hemorrhoid Probes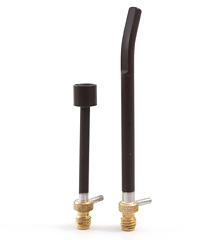 Surface areas that are larger or difficult to reach can be treated with great precision using the concave and hemorrhoid probes. The hemorrhoid probe features 360° rotating capabilities for greater flexibility in achieving more positive patient outcomes. Contact probes must be decontaminated after every patient use. Please follow this approved decontamination method.
| | |
| --- | --- |
| Model #202 | 1 cm Concave Probe |
| Model #213 | 6 x 32 mm Advanced Hemorrhoid Probe |
Brymill is a family-owned, Connecticut-based company that has delivered cutting-edge technology with attentive customer service for almost 50 years. Thgey specialize in highly durable cryosurgical equipment backed by a three-year warranty, and can manufacture custom equipment to meet your specifications.
Physicians and distributors around the world rely on Brymill products for superior quality.
---